Popular TAHITIAN NONI® Products
TAHITIAN NONI® Original™ Juice: Age Old Secret from Paradise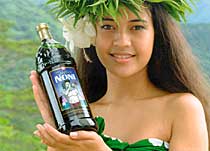 Tahitian Noni® Original™ is packed full of iridoids and other powerful bioactives that will make you healthier, give you more energy, and help strengthen and balance the whole body.* Building on hundreds of independent studies on the noni fruit, Tahitian Noni® Original™ is validated by more than a dozen human clinical studies. It's the perfect antidote to today's stressful life.
Provides 30 mg of bioactive iridoids per 60 mL serving as well as more than 150 nutrients - including various vitamins, minerals, and antioxidants - that all help to contribute to a healthier body.* Available in 500 ml and 1 liter glass bottles and 750 ml aluminum bottle.
TAHITIAN NONI® Bioactive Treats:
Tahitian Noni® Fruit Chews: No more high-fructose corn syrup or artificial flavors. Only natural sweeteners and real fruit flavors that deliver a tasty and uniquely noni experience. And with 2mg of iridoids per 10-count serving, it's a treat that gives you a little bioactivity in every bite. Available in Grape and Raspberry, 10, 100 and 150 count packages.
Fit Resist Super Snack Bar: is a bioactive super snack bar loaded with protein and fiber. And it's a healthy alternative to high-calorie, high-fat snacks. Keep hunger at bay with Fit Resist. Available in Chocolate Carmel Nut, Chocolate Mint, and Peanut Butter, 10 packs.
TAHITIAN NONI® Drinks and Other Beverages:


HIRO® Energy: For big energy and enhanced performance. A healthier alternative to crash-and-burn energy drinks and sugary sodas. Each 250 ml can includes Noni, to enhance health and vitality, Guarana, to give you energy, high levels of B-vitamins, 1,000mg of taurine, a powerful antioxidant and amino acids to give you the boost you need. Low in sugar and just 10 calories. 24 - 8.33 oz cans.

HIRO® Sparkling Black Currant: Tantalize your taste buds with 100% natural fruit juice, carbonated sparkle, and a fruity explosion of black currant berries. This satisfying splash of sweet berry and other natural flavors combine with the proven benefits of noni, the original super fruit. 24 - 8.33 oz cans.

Tahitea® Founders Formula Tea: This exquisite herbal tea is a direct result of Tahitian Noni founder John Wadsworth introducing noni to the western world. Naturally caffeine-free and high in antioxidants, this herbal tea supports the immune system, promotes relaxation, and helps maintain proper digestion. Our proprietary processes ensure you receive all the benefits of the noni plant in addition to the full-bodied flavor. Twenty tea bags in a signature tin.
Tahitea® Noni Jasmine Green Tea: This unique green tea is perfectly blended with noni leaf tea and jasmine flowers to support the immune system and a healthy body. It is rich in antioxidants, which help protect against the damaging effects of free radicals, and is unlike any other blend on the market. Twenty tea bags in a single tin.
TAHITIAN NONI® Bath & Body Products: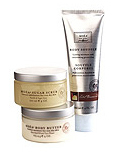 Moéa® Spa Products: Bask in the sensations of Tahiti as you pamper your skin to the refreshing treatment of Moéa® spa products. The Spa Products include:
Moéa® Body Butter - a proprietary blend of noni seed oil and tiare flower creates one of the best skin creams in natural skin care. Soothe dry, cracked skin and pamper elbows, knees, and feet with this rich, scented skin cream.
Moéa® Body Soufflé - each scent provides a unique aroma therapy experience and offers you an experience in natural skin care that will delight and invigorate the senses. Their light formulas provide lasting moisture and nourishing protection, particularly for dry skin that doesn't hold moisture well.
Moéa® Sugar Scrub - combines mood-enhancing Tahitian Vanilla with the polishing powers of sugar cane to create the ultimate island spa experience. Sugar Scrub will exfoliate dry, flaky skin to reveal glowing, smooth skin.
Moéa® Creamy Body Wash Sweet Banana & Macadamia: Treat yourself to soft, smooth, perfectly scented skin—all day long. Moéa creamy body washes have a light and calming fragrance that adds a hint of paradise without overpowering, while noni seed oil, honey extract, coconut oil, and other botanicals ensure your skin receives the hydration it needs to glow. Also available in Mango & Bougainvillea, Tahitian Lime & Papaya, and Tahitian Vanilla & Gardenia. 350 ml / 11.83 fl.oz.

Skin Supplement™ Original Lotion: Your skin is your body's first line of defense—make sure it receives the nourishment it deserves. This easily-absorbed lotion pampers your skin with noni seed oil, a singular ingredient found only in Tahitian Noni® products, Noni Juice, Palm Oil, Sweet Almond Oil, Shea Butter, and Coconut Oil. Hydrates and softens while protecting skin with valuable antioxidants. Your whole family will enjoy the neutral scent and incredible results. Skin Supplement™ Lotion also available with SPF 30. Skin Supplement™ Oatmeal Soap and Skin Supplement™ Shave Gel are also available.
Shower Gel: Cleanse your skin with our gentle, noni-based shower gel. Mild enough for all skin types, this calming gel will leave skin soft and moisturized. Perfect for the whole family.
TAHITIAN NONI® Hair Care:

Moéa® Fullness & Volume Shampoo: This island-inspired shampoo restores body and life to dull hair by gently removing dirt, pollutants, and oils that weigh hair down. Awapuhi, noni juice, and grapefruit extract cleanse hair while natural botanicals and proteins plump hair and restore fullness.
Moéa® Fullness & Volume Conditioner: Noni seed oil, mango seed butter, gardenia flower, and other natural ingredients help return fullness to hair without coating it with heavy residues. Botanicals detangle and repair thin hair while sunscreen offers UV protection. This light conditioner is as sweet smelling as it is effective, providing a true spa experience.
Moéa® Strength & Rejuvenate Shampoo: Brittle, frail hair can be a thing of the past. Strength & Rejuvenate Shampoo gently cleanses hair and scalp with noni juice, awapuhi, and pineapple extract. Nourishing botanicals and proteins fortify and invigorate hair, while other key ingredients restore bounce and luster.
Moéa® Strength & Rejuvenate Shampoo: Rice and soy proteins strengthen hair while the restorative benefits of noni juice, noni seed oil, and mango seed butter leave hair luxurious and healthy. Special detangling properties protect hair from wet-combing damage, while sunscreen offers UV protection. Don't settle for brittle and weak tresses. Let this rich conditioner restore your hair's vitality and luster.
Moéa® Smooth & Hydrate Shampoo: Discover the secret to managing thick, coarse, or curly hair with this luxurious shampoo. It gently cleanses hair without stripping it of essential nutrients, leaving hair smooth, hydrated, and shiny. Awapuhi extract and noni seed oil cleanse and nourish hair while rice proteins help increase strength and manageability.
Moéa® Smooth & Hydrate Conditioner: Add shine and smoothness to your hair with this rich, botanical conditioner. Noni and macadamia seed oils combine with mango seed butter to deliver deep hydration to dry, coarse, or curly hair. Rice proteins help increase hair strength and manageability, while sunscreen protects hair from UV damage.
All Moéa® hair care products are free of added parabens and sulfates, a rarity in the beauty industry
TAHITIAN NONI® Topicals:

TAHITIAN NONI® Seed Oil: The first and only noni seed essential oil in the world. It takes over 50,000 noni seeds to make just one ounce of this rare and precious oil! High in linoleic acid, Noni Seed Oil is a powerful ally in skin hydration and health. This patented essential oil absorbs easily and delivers intense moisture and relief to dry, irritated skin.
TAHITIAN NONI® Noni Leaf Spray: Too tender to touch? The Noni Leaf Spray allows you to get benefits of Noni Leaf Serum without touching the areas of concern. Alcohol-free. Convenient spray bottle is pocket-sized for travel or home use.

TAHITIAN NONI® Noni Leaf Serum: The French Polynesian secret to healthy skin lies in the power of the noni leaf. Noni Leaf Serum is a light, soothing gel similar to aloe vera that nourishes and soothes the skin. Using an exclusive process to extract the juice of the long-treasured noni leaf, this balm offers instant relief to distressed skin. A proven favorite and essential addition to any household.

TAHITIAN NONI® Lip Balm: Hydrate, soften, and protect your family's lips with these three deliciously scented lip balms. Noni seed oil, shea butter, Kukui Nut oil, and other natural ingredients pamper lips while SPF 15 provides protection from sun damage. Original, Pineapple and Berry available.
Additional Products:
TePoemä® Facial Care Products: include Blemish Recovery Gel, Cleansing Gel, Cleansing Oil, Creamy Moisturizer, Element Shield SPF 20, Equalizing Toner, Hydrating Lotion, Restorative Eye Essence and Youth Restore Lip Recovery balm. Order your TePoemä® products individually or in the Daily Regimen Packs and save.
Tahitian Noni NatureBorn® Whole Health Complex: natural vitamin, chelated mineral, rich whole food complex, supplying enzymes, activators, and bioflavonoids that actually help your body absorb and use those vitamins better.
Tahiti Trim® Plan 40: weight management program exclusively for women over 40. Just as women have unique needs, there are unique elements that help mid-aged women balance their bodies and assist them in building strong bones, a good immune system, and lean muscle mass. It is from these elements that the plan 40 program was designed, specifically to assist women over 40 in weight management and overall health.
Tahitian Noni™ Fiber Blend: Research shows that increasing fiber intake by only 10 grams per day can reduce the risk of heart disease by up to 20 percent, and you can get your 10 grams with just one serving of Tahitian Noni™ Fiber Blend.
To view a complete product catalog and for more information about these products visit the Tahitian Noni Products website. For information about the complete Morinda family of products visit the Morinda Bioactives website.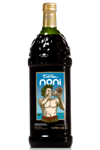 To Order TAHITIAN NONI® Products:
Current prices are listed and and orders can be placed at our Online Store, or by calling our toll-free Order Line, please use referral code 1802462:
English: 800-445-2969
Spanish: 800-445-8933
Chinese: 888-545-0304
Ask about joining the new Tahitian Noni™ Rewards program, you'll enjoy great savings on the products you love!

Share the story and save money.
Share the TAHITIAN NONI® Juice story with your friends! If TAHITIAN NONI Juice and other Tahitian Noni International products have been beneficial for you, learn more about savings and rewards for sharing the story by continuing to: opportunity.
*These statements have not been evaluated by the Food and Drug Administration. This product is not intended to diagnose, treat, cure, or prevent any disease.


Morinda Independent Product Consultant, ID #1802462.
TAHITIAN NONI®, HIRO®, Tahitea®, Moéa®, TePoemä®, Tahiti Trim®, Hoa®, Tahiti Dream®, SmartCaps™, Smart Extracts™, & ExpressWay™ are trademarks of Morinda, Inc. ©Morinda, Inc. Used with permission. All rights reserved.
This entire website copyright 2002-2015, Richard Boehle, DigitalNetExpress.com, Burbank, California.